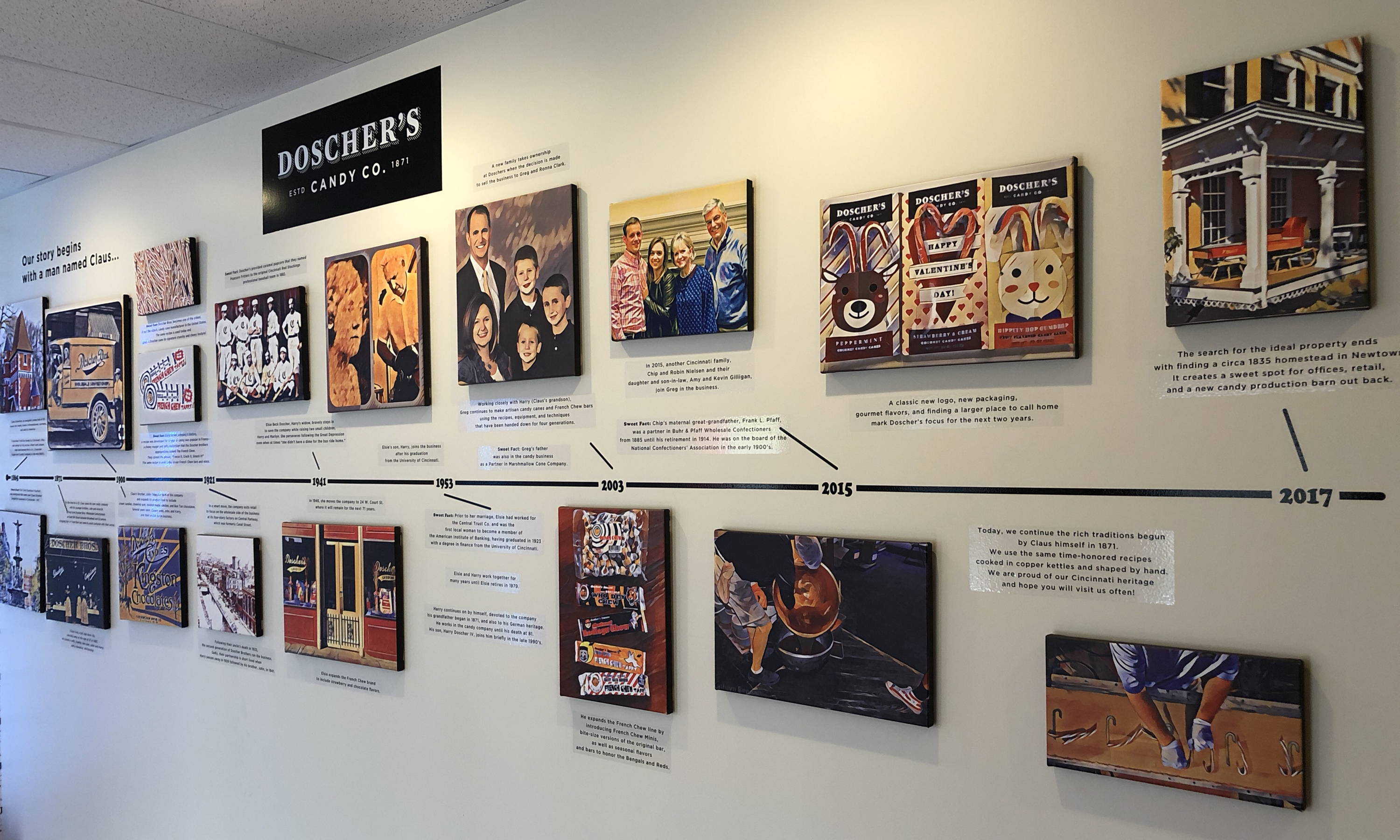 Do You Know What Makes A Candy Cane Special? Claus Did.
In 1871, Claus Doscher created the first Doscher's handcrafted candy cane in Cincinnati, Ohio. His process involved using real peppermint oil, cooking small batches in copper kettles, and working with the best tools known to man – his hands – to roll, knead, stripe, and hook the canes.
For close to 150 years, Doscher's has used the same recipe to ensure that each of our candy canes is perfectly chewy and airy. We use the same copper kettles and time-honored techniques so that every candy cane is a one-of-a-kind piece of confectionary art.
But, Claus didn't just make candy canes. He also developed the famous French Chew that continues to delight candy lovers everywhere. French Chew is a chewy, nougat-like candy that we make in amazing flavors and shape into either bars or individually wrapped bite-size mini's!
Doscher's Candy Company was founded in 1871 by Claus Doscher, a young German immigrant, who came to the United States when he was just 19. He came to Cincinnati and learned the candy business from his uncles who were in the sugar and candy business already. After a few years, he was ready to begin his own candy company, and with his brothers, John and Heinrich, formed Doscher Bros. Wholesale Confectioners on East 5th Street between Broadway and Sycamore.
Claus lives a full, but short life, passing away at only 37. He leaves a wife, Sophia, and two sons, John and Harry, and a daughter, Wilhelmina.   His brother, John, takes the helm of the company and expands its product lines to include cream candies, chewing gum, molded maple candies, and Bon Ton chocolates.
In a smart move, the company exits retail to focus on the wholesale side of the business at its four- story factory on Central Parkway, which was formerly Canal Street.
Following their uncle's death in 1932, the second generation of Doscher Brothers, Claus's sons, John and Harry, run the business. Sadly, their partnership is short lived when Harry passes away in 1939 followed in 1941 by his brother, John.
Elsie Beck Doscher, Harry's widow, bravely steps in to save the company while raising two small children, Harry and Marilyn. She perseveres following the Great Depression even when at times "she didn't have a dime for the bus ride home."
Elsie's son, Harry, joins the business in 1953 following his graduation from the University of Cincinnati. His son, Harry IV, briefly works with Harry in the late 1990's.
In 2003, Harry decides to sell the business to Greg and Ronna Clark. Devoted to the company that his grandfather began in 1871 Harry, III, works with Greg until his death at 81 in 2009.
Greg continues to make artisan candy canes and French Chew bars using the recipes, equipment, and techniques that have been handed down for four generations. He expands the French Chew line by introducing French Chew Minis, bite-size versions of the original bar, as well as seasonal flavors and bars to honor the Bengals and Reds.
In 2015, another Cincinnati family, Chip and Robin Nielsen and their daughter and son-in-law, Amy and Kevin Gilligan, join the Clarks in the business.
A classic new logo, fun packaging options, gourmet flavors, and finding a new place to call home mark Doscher's focus for the next two years. The search for the perfect property ends with finding a circa 1835 farmhouse in Newtown. It provides the ideal space for offices, retail space, a tearoom, and new candy production barn out back.
We are proud of our rich heritage and hope you will come visit us!
---